When you sign into an ISU computer, your network drives should automatically map to drive letters. A folder containing shortcuts to your department and personal folder (if you have one) is also created on the desktop and is named "ISU Network Folders". Some programs require a drive letter to save or read from network resources, however the vast majority of the time it does not matter whether you use a shortcut or mapped drive letter.
Sometimes for various reasons the automatic process may fail. For the departments of AGR, CAST, CJS, FCS, HSC, KNR, and MSC servers and folders have been standardized so that the path to your department and person folder is predictable. Department folders are located at \\castfiles.ad.ilstu.edu\YOUR_DEPT. So AGR for example would be \\castfiles.ad.ilstu.edu\AGR. Personal folders can be found at \\castfiles01.ad.ilstu.edu\Users\YOUR_ULID.
On Windows, you can manually create a shortcut with the following steps:
If you are off-campus or not using your ULID to logon to your computer, make sure you are connected to the VPN.
If you aren't using your ULID to logon to your computer, you will be prompted to enter your credentials. Make sure to enter ADILSTU\ before your ULID in the username field.
Right-Click your department drive and select "Create Shortcut".
Windows will ask to place the shortcut on your desktop, click "Yes" when this dialog pops up.
That's it! You can copy the shortcut from your desktop to somewhere else or rename the shortcut to whatever you'd like.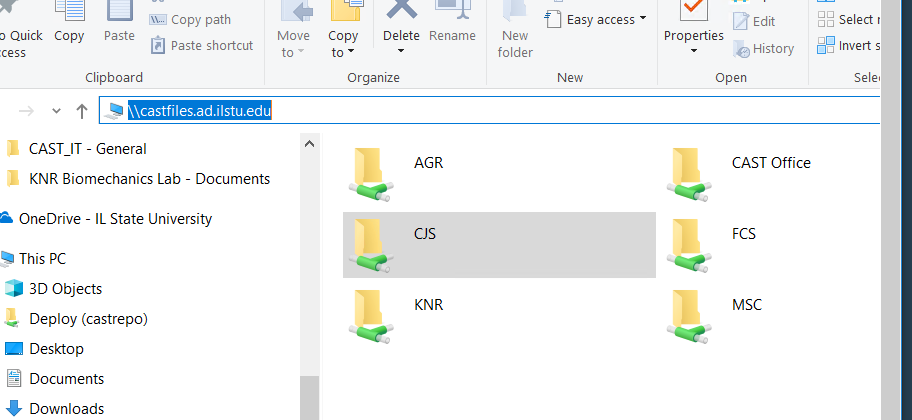 On Mac, you can map and connect to a departmental drive by going to the top toolbar and clicking "Go" and then "Connect to Server". In the server path, enter castfiles.ad.ilstu.edu/YOUR_DEPT for departmental drives or castfiles01.ad.ilstu.edu/Users/YOUR_ULID for personal drives.