Many campus resources such as network drives, your office computer, virtual computer labs, and paycheck information must be accessed through the Virtual Private Network (VPN). To download the VPN, go to the following links for Windows and Mac.
For the Mac installation in particular, you only need to select the "VPN" component during the installation:
Once you have the Cisco AnyConnect program downloaded and installed, enter vpn01.ilstu.edu as the server address and sign in with your ULID and password.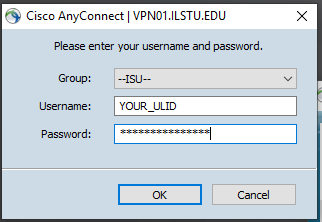 After entering your credentials, you will need to respond to a MFA prompt to allow the VPN login.
Make sure to keep an eye on the VPN icon and check for the padlock. It may sometimes become disconnected and you will need to click the icon to reconnect.