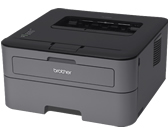 If your brother printer is refusing to print and indicating there is low toner, you can often get many more prints by putting the printer into "Continue Mode".
To turn Continue Mode off or on, turn on the printer and press the green Go button 7 times. All the lights on the printer will blink twice to confirm Continue Mode is active or they will blink once to confirm Continue Mode is inactive.
After Continue Mode is active, you may still have a low toner warning light but should be able to print until the quality of prints is no longer acceptable.